Observation reports and news for September 2018:
| | |
| --- | --- |
| 09.25.2018 | About UFOs filmed from the Internationa Space Station. |
| 09.23.2018 | A Brazilian singer thinks he filmed a UFO near Rio de Janeiro. |
| 09.23.2018 | Believe there is an alien face on asteroid Ryugu. |
| 09.19.2018 | Twitter as a source of "UFO revelations". |
| 09.14.2018 | Witness reports having seen a UFO in Valensole, France. |
About UFOs filmed from the Internationa Space Station:
Videos shot from the International Space Station (ISS) are freely viewable on the NASA website, for example.
It happens that Internet users, or even ufologists supposedly more competent in the matter, think they see "UFOs" in such videos.
An example published on September 24, 2018, is:
First of all, there is no evidence that this is a "UFO" - except in the strict sense of the term, and not totally accutately, "Unidentified Flying Object". It can be considered as an object, and for some, it is "unidentified". But it does not exactly "fly", it "floats". And it could be identified if one made the effort of research, which is not the case here at all.
The ISS sometimes "loses" objects: tools, wires, screws, which then go drifting, either outside the station or inside, floating in front of a porthole. The cameras are filming it. Some call it "UFO" without any valid reason.
In this case, it's even worse. The ufologist who believes to see a UFO here ensures that it is "gigantic". But nothing allows to affirm this. A ufologist with just the minimum minimorum of competence is supposed to know that an unidentified object can be "sized" only with well-founded reasons. Here, what looks like a piece of cable could be distant and "gigantic", but just as well, close and "tiny". There is no measure of the distance between this object and the camera!
Such images, with UFO "interpretations", are commonplace. There are new ones almost every day on the Internet. I cannot find enough time to talk about all of them. I just hope I can make the readers aware that they are not necessarily "UFOs", even less "gigantic UFOs".
A Brazilian singer thinks he filmed a UFO near Rio de Janeiro.:
On September 25, 2018, the Brazilian website UOL informs that the singer Ney Matogrosso thinks he saw and filmed with his mobile phone a UFO on September 23, 2018, from his home in Leblon, south of Rio de Janeiro. He posted his video on "Instagram", and, as one says, "social networkers went crazy."
Brazilian ufologists, such as Toni Inajar Kurowski, co-editor of "UFO Magazine" published by the Brazilian Center for Flying Saucer Research (CBPDV), interviewed by UOL, suggested that this could be a Chinese lantern. They noticed that on the video, the drop of the fuel is visible - which the witness called "filaments". And indeed, a person from the area, Tiago Torres, who saw it too, said that by looking at it through binoculars, he saw that it was a kind of balloon.
See: https://entretenimento.uol.com.br/noticias/redacao/2018/09/24/especialistas-desvendam-misterio-de-ovni-avistado-por-ney-matogrosso.htm
Twitter as a source of "UFO revelations":
"Revelations" about aliens are now, generally, totally ridiculous "brealing news" items on social networks. One example is as follows. A co-called "Q Annon" was asked on Twitter on September 19, 2018:
"Are we alone?
Roswell?
And "Qanon" answered:
"No
Highest classification.
Consider the vasteness of space.
Q"
The credibility of this "tweet" could not be lower. Any moron can get a pseudo and write anything on the web. This shoould have had absolutely no echo at all. But it did. Lunatic fring "UFO" websites all over the world propagated it as a "revelation" of the highest importance... Idiots even made a French-sepaking video about this; which contains nothing else than the above, and are asking for "support" via Paypal. The infamous "Dr. Miachel Salla", who introduced himself as an "exopolitician" decades ago, writes about it as if it significant.
Example: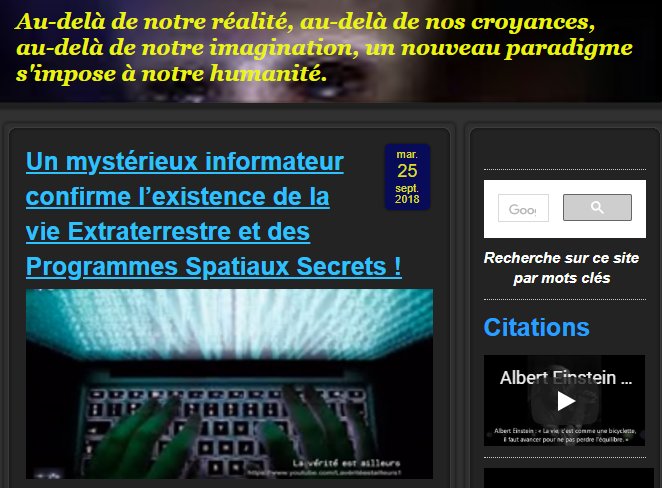 So, there is no need for any government do "cier up" or "discredit" the UFO sightings topic anymore: anybody can believe anything and the need for evidence disappeared for a large number of people.
In the US, this "Qannon" stuff started a big conspiracist movement, with people carrying "Qanon" T-shirts and banners. They spread "Qanon" claims or alleged claims such as "the end of the Amrican Empire", the son of Trump as new US dictator soon, "world purification" campaign by Trump, and just about any idiocy one may think of.
Now, ask me:
"Qanon?"
I reply:
"Bullshit.
So sad.
Patrick Gross"
Would this spread as fast as the "Qanon" moronic stuff?
Witness reports having seen a UFO in Valensole, France:
The anonymous witness reported his sighting via the web to MUFON, USA, who published it on September 16, 2018. It was dated September 14, 2018 and he said:
"At 05:52 am, coming out of my house to work, being in my garden, I observed a luminous yellow sphere moving at a steady speed, over the horizon, well above the top of the trees, coming from the northwest, moving alone, steadily, slowly, following the direction of the east, no noise from the phenomenon, no outside noise, I observed it for 2 minutes, Having to leave, I stopped observing, but it continued its travel."
I do not see any particular strangeness in this observation: it could be a Chinese lantern, or even a plane or helicopter...
Recent observations reported to MUFON are at: http://mufoncms.com/cgi-bin/report_handler.pl?req=latest_reports