News > Frontpage > Luminous spots in the center of Alsace: probably Chinese lanterns
published on 12/27/2013 at 06:26 p.m. | Seen 21265 times
Weird - Luminous spots in the center of Alsace: probably Chinese lanterns
In Mulhouse, recently, Chinese lanterns in the nights [sic] sky, were mistaken for "UFOs".
Strange light points, large floating balls of fire... Many reports pour in to the DNA: on Saturday, December 21, in the evening, many Alsatians have observed a strange phenomenon in the sky of center Alsace. No doubt for those who have already seen the celestial ballet of Chinese lanterns: that's what it was.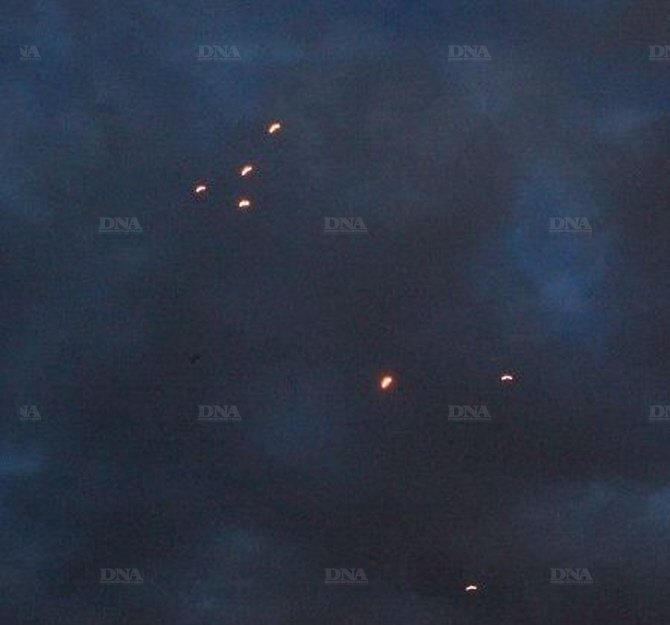 (Updated at 04:07 p.m.)
Jean-Marc Hurth, of Aspach-le-Haut, in the Haut-Rhin, is a specialist of the Chinese lanterns; which he discovered for the first time in Phuket. For him, no doubt, that is really what Patricia Kliber, the first person to make a testimony to DNA, had seen. "Chinese lanterns have that effect, he says. You get the impression you are seeing flying saucers. I have launched some for my daughter's wedding in late July. It is beautiful. I'm also doing it regularly when friends visit me. They are thrilled!"
The Chinese lanterns are ordered on the internet [They can also be bought in local shops.]. They use the same principle as the hot air balloons. Solid fuel is ignited. It will heat the air in a "balloon" in rice tissue, and the lantern will rise in the air... Mr. Hurth has found at all prices, from 80 cents to 4 € each. And he ordered a hundred. He inquired about the regulations. For example, it is forbidden to "let go" more than twenty at a time. Also, make sure the wind is not too strong and an airport is not too close... "It's beautiful, says Mr. Hurth. When you release them we make a vow. And it is the one whose lantern flies the highest that gets his vow fulfilled." The secret "wish" of some - finally see the arrival of beings from elsewhere - that is a wish that is not about to be fulfilled...
An example of flight Thai lanterns (archive video taken from YouTube)
Since the testimony of Patricia Kliber, other DNA readers have contacted us to say that they have observed the same type of phenomenon. Jean-Marie Grunenwald, of Kertzfeld had already, in an email to our editorial staff, delivered another explanation.
"Sorry to disappoint Mrs. Kliber, but the flying saucers were balloons," he wrote. "I observed the phenomenon on the balcony. On seeing these luminous spots south of Kertzfeld, I had time to find a pair of binoculars, There were well 10 items in a very dark, overcast sky: a compact group of 7 and 3 latecomers. The south-north movement was relatively fast, a slight wind was blowing in the same direction (20-30 km/h on the ground), probably more in altitude. In this very dark sky, it was difficult to assess the altitude but I think these "objects" passed at 200 - 300 m above the houses. With the binoculars, it was easy to see the lit burners and when the group passed above our home, by listening, we heard the characteristic hum of the burners."
Mr. Grunenwald concluded with humor: "It is, perhaps, just a postponement to observe the aliens."
***
On the dna.fr website isa67280 claims to have seen "two yellow orange light points Wednesday night, also at 10:25 p.m.". Problem: Wednesday night, it was December 24. And Patricia Kliber evokes Saturday, December 21, that was just one week ago. Isa67280 lives in Urmatt near Molsheim, and she explains that the phenomenon lasted 30 seconds, then the light spots "disappeared in height."
This morning, Jean-Pierre, a resident of Colmar (Heyden district, west of the city), also contacted us after reading our article in the newspaper. "I watched a movie on television, he said , and then I went out and I saw it the same day, at the same time." Jean -Pierre saw "three suspended lights that moved." "I thought it was an advertising operation," he says. His wife also witnessed the phenomenon.
Jean-Pierre remembers the year 1957. He was 15-16 years old. That year [No, it was 1954], many Alsatians had seen strange lights in the sky. He was just coming out of the movies. "We talked about flying saucers, but it must have been shooting stars," he rationalizes.
Marie-Elisabeth Kreydenweiss also witnessed this strange phenomenon, the same day at the same time, at 10.30 p.m. in Hilsenheim. "I saw them. They were round balls of possibly 70 centimeters in diameter. There were twenty. The last one left a trail behind it, like an airplane. It passed over the houses... I did not have the reflex to take a picture, I was paralyzed." Marie-Elisabeth, it cannot [be] like [the] Chinese lanterns in Mulhouse (pictured). Rather, she speaks of "great balls of fire."
As a reminder, Patricia Kliber, a reader of DNA that has contacted us, says she observed "a quite unusual phenomenon" in the night sky above Kertzfeld in the Alsace center, close to Benfeld . It was on the evening of Saturday, December 21, at 10:25 p.m.. Patricia says she was accompanied by two other people who saw the same thing she saw.
"Ten very luminous points and quite close moving at a somehow constant distance and along a path from the east and from north to a little faster than aircraft cruising speed, she said. These points were aligned more or less at regular space and moved at the same speed for the first 9. The 10th seemed to mark a sharp slowdown and stood apart from the first 9 then strongly accelerated following the same trajectory as the first heading north and soaring into the sky. Their passage was relatively low."
The three witnesses said that it could not in any case be planes: "No noise and no trail in the sky, the more they seemed to move more easily than an airplane." Similarly, the hypothesis of an helicopter formation they feel excluded: "No noise and very gentle move in the sky." They also reject the explanation of satellites spree: "Far too close to the Earth and their movement had nothing to do with an object in orbit." Finally, to them, it cannot be meteorites: "These flying objects were regular and rose into the sky."
Patricia and her friends would like to know if they were the only witnesses to the strange light phenomena they observed."
Have you, too, witnessed such things Saturday, December 21 at 10:25 p.m. in central Alsace?
Access the website of the very official and very serious GEIPAN, Studies and Information Group on Aerospace Unidentified Phenomena (CNES) (click here) [GEIPAN is not CNES, but a service of the CNES,the National Space Studies Center].