ALSACAT:
Case of Molsheim, on August 12, 2009:
Case number:
ALSACAT-2009-08-12-MOLSHEIM-1
Summary:
In a listing of UFO sighting reports in the Bas-Rhin on their website, the Alsatian ufology association SPICA noted that on Wednesday, August 12, 2009, at 10:00 p.m. in Molsheim in the Bas-Rhin, a "luminous spot" of orange color was seen; which was explained as "Aeronautics reduced". ie one or more Chinese lanterns.
Later, I found in the January 2010 issue of the SIPCA News bulletin, that they published the testimony regarding this ovseration, in fact two versions certainly taken from the Web. The stories clearly indicate that it was indeed a release of Chinese lanterns.
The witness even says that what they saw was the same as what appears on a so-called UFO video taken earler in Vendenheim; which does show Chinese lanterns.
Data:
Temporal data:
| | |
| --- | --- |
| Date: | August 12, 2009 |
| Time: | 10:00 p.m. |
| Duration: | ? |
| First known report date: | 2015 |
| Reporting delay: | Hours, 6 years. |
Geographical data:
| | |
| --- | --- |
| Department: | Bas-Rhin |
| City: | Molsheim |
| Place: | ? |
| Latitude: | 48.540 |
| Longitude: | 7.491 |
| Uncertainty ratio: | 1 km |
Witnesses data:
| | |
| --- | --- |
| Number of alleged witnesses: | ? |
| Number of known witnesses: | ? |
| Number of named witnesses: | ? |
| Witness(es) ages: | ? |
| Witness(es) types: | ? |
Ufology data:
| | |
| --- | --- |
| Reporting channel: | Listing of sightings by the regional ufology group SPICA. |
| Type of location: | ? |
| Visibility conditions: | Night |
| UFO observed: | Yes |
| UFO arrival observed: | ? |
| UFO departure observed: | ? |
| Entities: | No |
| Photographs: | No. |
| Sketch(s) by witness(es): | No. |
| Sketch(es) approved by witness(es): | No. |
| Witness(es) feelings: | ? |
| Witnesses interpretation: | ? |
Classifications:
| | |
| --- | --- |
| Hynek: | NL |
| ALSACAT: | Chinese lanterns. |
Sources:
[Ref. spa1:] "SPICA" UFOLOGY ASSOCIATION:
In their newsletter, the association indicates that there was an observation in Molsheim / Ergersheim in the Bas-Rhin on August 12, 2009 between 10:00 p.m. and 10:30 p.m., the source being the "SPICA Forum".
The witness is quoted:
I saw about fifteen luminous objects in the sky over the commune of Egersheim [sic, Ergersheim]. A first ball very luminous color of fire was moving slowly in the sky while the sky was still clear enough... it was not a plane! Not a sound... not a flicker. On this night of the "night of the stars" I wondered if it was a meteorite or something like that, but much too slow, no plume of smoke... Everything became very fishy when an entire series of balls succeeded one another following the same trajectory... to finally disappear while extinguishing gradually. The most surprising: 3 balls came one behind the other when suddenly 2 of them were separated to form a perfect triangle in the sky... a natural flying object (meteorite or other) could not have done such a maneuver! A top secret aircraft of the army that does not make a noise? But then why would they be so bright so visible? With the binoculars it really looked like fireballs and quite close to the ground... it seems to me that it was under the few clouds that were there at that moment.

I just watched the videos of what was observed in Vendenheim in October 2008 (which is quite close, eventually ...) and I think that was it.
SPICA issues the "Strong hypothesis" of "Chinese Lanterns", and gives another testimony for this observation:
There were two of us, and I do not pretend to explain what we saw. They were bright spots of light, moving from west to east, appearing, moving slowly (slowler than an airplane), and without any noise, before disappearing in the middle of the sky and following all the same trajectory. The light intensity was consistent since the night had not yet fully fallen, and we were looking in the direction of sunset, where the horizon was still quite clear. Their size was much larger than the bigger stars. With the binoculars no shape was distinguishable. This intensity eventually diminishes until it disappears. I do not claim to know what it is, but where the story becomes really interesting is that we were able to make this observation for about twenty minutes approximately! In addition, contrary to other references to "balls of fire" usually mentioned alone, by two or three; we have seen successive arrivals of isolated lights, by two, by three, in single row, advancing at the same speed while keeping their distance. They appeared in the sky and ended up disappearing, without taking altitude.... in the middle of the sky too. Finally the fact that left us the most perplexed, and which ended to make us doubt: three lights came, in a row, approximately equidistant from each other, when 2 of them changed their paths to form a perfect equilateral triangle that advanced slowly, still in the original trajectory West - East. We must have observed in all about fifteen bright balls. However, our observation was of a certain magnitude. Though that night was the "night of the stars", but this was not stars, and their speed was slow. The possibility of a meteorite entry into the atmosphere does not stick either (the always slow speed and the fact that no noise or drag followed the light points). Planes? A real plane passed in another part of the sky at the end of the phenomenon... and the slight rumble was clearly perceptible ... Also this can perhaps have a cause quite unexpected, to see banal, but remains for me for the time "unidentified"... Because we do not forget the essential element: the change of trajectory and the formation of the triangle! It defies the laws of nature!.. and it leaves you puzzled...
[Ref. spa4:] "SPICA" UFOLOGY ASSOCIATION:
City
Date and hour of observation
General shape
Identification
General color
Hypothesis
Conclusion
MOLSHEIM
Wednesday 12 August 2009 at 22h00
luminous dot
Aeronautical reduced
orange
Aeronautical reduced
Solved
Discussion:
When SPICA writes "Aeronautical reduced" in their listing, it means Chinese lanterns or toy balloons or drones. This is orange, and by night, so it was one or more Chinese lanternes.
Note that SPICA listed another such sighting, also explained as Chinese lanterns, in Ergersheim, about 3 kilometers in the Northeast of Molsheim, at the same time and date.
Chinese lanterns are one cause of some old tales of UFO sightings: During the "airship" wave of 1896 - 1897 in the USA, during the wave of 1972 in the US Midwest, etc.
Since these miniature hot air paper balloons can be ordered on the Internet at very low cost - they also commonly found in Alsace now in stores - there is no need anymore to take the trouble of manufacturing them yourself.
So since 2005, about everywhere and of course in Alsace, many people who do not yet know about them report them as UFOs or at least as a subject of puzzlement: "It was not planes, not satellites, not helicopters, etc...", commonly appears in the stories. Indeed they aren't.
In principle, any ufologist worthy of the title should be able to recognize a story related for sure or at least possibly to Chinese lanterns, but there are still ufologists who do not want to listen, or quibble, demanding that a guilty lantern is handed to them otherwise they want the story to remain a "UFO report".
Most of the time, I certainly cannot "scientifically prove" or provide "hard evidence" that this or that report is explained by Chinese lanterns; but I see nothing opposes it and nothing would justify to call it spacecraft from another world or who knows what else.
It is sometimes possible to find that there was, precisely at that time, in the vicinity, a release of lanterns, during a party, a wedding party, a birthday party etc. But these releases are now so usual in Alsace at least that they are not necessarily mentioned on festivity calendars.
Since 2005, they constitute the bulk of the "testimonies" of UFOs found on websites devoted to the subject of UFOs and essentially publishing such "web report"; generally the only treatment is the publication, without any information on a possible cause, without any investigation or comment.
In Alsace, such releases are especially popular now since fireworks and firecrackers, long tolerated, are now prohibited for use unless special exemptions; Alsatians therefore largely adopted the lanterns.
As these lanterns are usually released at private or public parties, they are most often seen on Saturday nights, often at wedding dates or official festivities such as the National Day or New Year's Eve, usually between 10 p.m. and midnight. They are then usually released in clusters. But sometimes the purchaser performs a "test flight" a few days before, sometimes with a single lantern.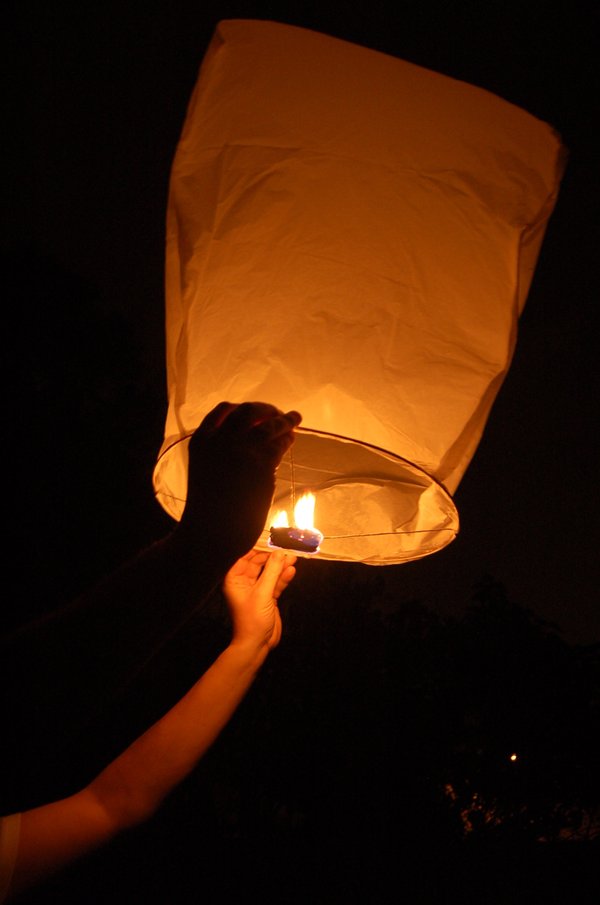 Above:
A Chinese lantern.
Evaluation:
Chinese lanterns.
Sources references:
* = Source is available to me.
? = Source I am told about but could not get so far. Help needed.
[spa1] * SPICA News, bulletin of the Alsatian ufology association SPICA, France, #15, pp 31-32, January 2010.
[spa4] * "DEPARTEMENT 67 - BAS-RHIN", listing of UFO sighting reports by the Alsatian ufology group SPICA, Alsace, France, not dated, found in May 2015, at http://www.spica.org/Page_Listing_67.htm
File history:
Authoring:
| | |
| --- | --- |
| Main author: | Patrick Gross |
| Contributors: | None |
| Reviewers: | None |
| Editor: | Patrick Gross |
Changes history:
| Version: | Create/changed by: | Date: | Description: |
| --- | --- | --- | --- |
| 0.1 | Patrick Gross | September 2, 2015 | Creation, [spa4]. |
| 1.0 | Patrick Gross | September 2, 2015 | First published. |
| 1.1 | Patrick Gross | February 12, 2018 | Addition [spa1]. In the Summary, addition of the paragraphs "Later, I found..." and "The witness even says." Explanation changed from "Chinese lantern(s)" to "Chinese lanterns." |