The 1954 French flap:
The index page for the 1954 French flap section of this website is here.
October 16, 1954, Briançon, Hautes-Alpes:
Reference for this case: 16-Oct-54-Briançon.
Please cite this reference in any correspondence with me regarding this case.
Reports:
[Ref. lml1:] NEWSPAPER "LE MERIDIONAL":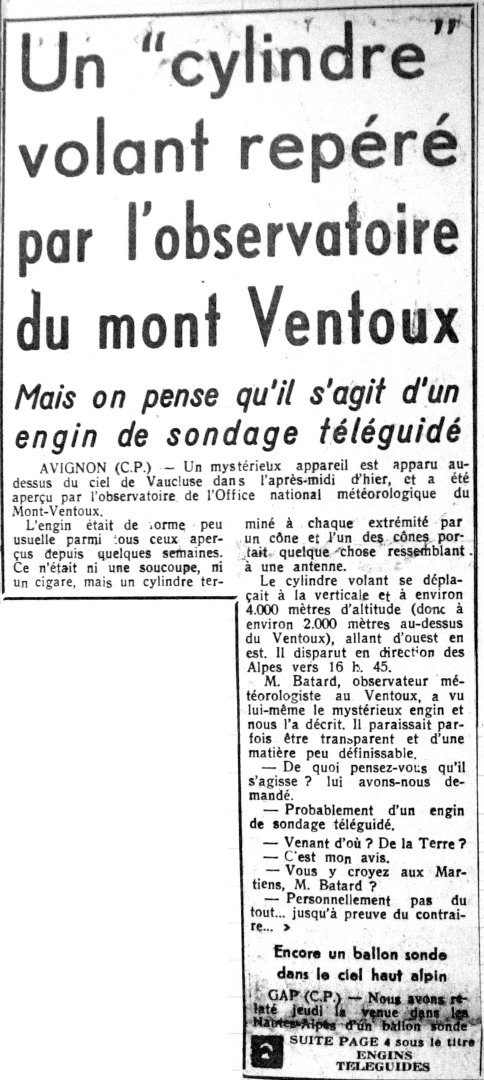 A flying "cylinder" spotted by the Mont Ventoux Observatory
But it is believed to be a remote-controlled survey craft
AVIGNON (C.P.) - A mysterious device appeared above the sky of Vaucluse in the afternoon of yesterday, and was seen by the observatory of the Mont Ventoux National Meteorological Office.
The machine was of unusual shape among all those seen in recent weeks.
It was neither a saucer nor a cigar, but a cylinder terminated at both ends by a cone, and one of the cones bore something resembling an antenna.
The flying cylinder moved vertically and about 4,000 meters above sea level (about 2,000 meters above the Ventoux), going from west to east. It disappeared towards the Alps around 4:45 p.m.
Mr. Batard, a meteorologist observer at the Ventoux, himself saw the mysterious machine and described it to us. It seemed at times to be transparent and of an undefinable material.
"What do you think it is?" We asked him.
- Probably a remote-controlled sounding machine.
"Coming from where?" From the earth?
- This is my opinion.
"Do you believe in the Martians, Mr. Batard?"
- Personally not at all, until proven otherwise.
Another probe balloon in the high alpine sky
GAP (C.P.) - We reported on Thursday the arrival in the Hautes-Alpes of an
CONTINUED PAGE 4 under the heading REMOTE-CONTROLLED CRAFTS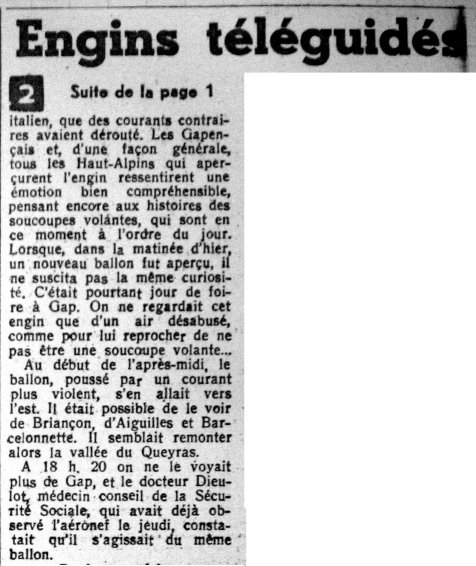 Remote controlled crafts
Continued from page 1
Italian sounding-balloon, that contrary currents had diverted. The residents of Gap and, in general, all the High Alps residents who saw the craft felt an understandable emotion, still thinking of the stories of flying saucer currently on the agenda. When, on the morning of yesterday, a new balloon was seen, it did not arouse the same curiosity. It was, however, a fair day at Gap. One looked at this machine only with a disillusioned face, as if to reproaching it for not being a flying saucer...
Early in the afternoon, the balloon, pushed by a more violent wind, was heading east. It was possible to see it from Briançon, Aiguilles and Barcelonnette. It seemed to ascend the valley of the Queyras.
At 6 p.m. it was no longer seen from Gap, and Dr. Dieulot, a medical adviser to the Social Safety, who had already observed the craft on Thursday, noticed that it was the same balloon.
[Ref. gqy1:] GUY QUINCY:
October 15 [, 1954]
[... other cases...]
daytime: Southern France:Briançon,Digne,Le Puy,Lyon,Murat,Saint Céré,Toulouse,Tulle,Ardèche,Aveyron,Basses-Alpes
[... other cases...]
Explanations:
High-altitude balloon.
One or more stratospheric balloons to study cosmic rays were launched from Milan, Italy, as a project of the Padova University, and floated in the French sky on October 14, 15 and 16, 1954; this photograph was taken from the observatory of Haute-Provence:
Keywords:
(These keywords are only to help queries and are not implying anything.)
Briançon, Hautes-Alpes, afternoon, balloon
Sources:
[----] indicates sources that are not yet available to me.
[lml1] Article in the regional newspaper Le Méridional, France, pages 1 and 4, October 17, 1954.
[gqy1] "Observations 1954", monograph by Guy Quincy, France - Algeria, private publication, page 17, the 1950's.
Document history:
| Version: | Created/Changed by: | Date: | Change Description: |
| --- | --- | --- | --- |
| 1.0 | Patrick Gross | February 2, 2017 | First published. |
| 1.1 | Patrick Gross | May 13, 2022 | Addition [gqy1]. |