ALSACAT:
Case of Riedisheim, on October 18, 1981:
Case number:
ALSACAT-1981-10-18-RIEDISHEIM-1
Summary:
On October 19, 1981, a man wrote, without anonymity, a letter to the ufology group "GREI", of Mulhouse.
He wished to report his sighting of the day before, Sunday, October 18, 1981, at 10:15 p.m., from his home, 12 rue de la Paix, 2nd floor, in Riedisheim in the Haut-Rhin.
He was watching the 2nd TV channel, when his wife beckoned him to come to the kitchen. From the kitchen balcony, he said, they saw a flying object of an orange red color, very shiny, the size of a full moon.
It appeared twice. It was spewing almost certainly smoke, of white color.
It remained on the spot for two minutes, then slowly left towards the South East, to Switzerland. They had seen in the East, over perhaps Ile Napoleon or Rixheim, and it disappeared at 10:43 p.m..
The man had rung at neighbors' door, but unfortunately there was nobody home, and apparently no one was in the street either.
He said that three people saw this phenomenon - but he did not specify who the third witness was - and hoped other people had seen it and also reported to GREI.
In his letter he also reported having seen "this craft" - probably something else in fact - in Clichy in 1954.
Data:
Temporal data:
| | |
| --- | --- |
| Date: | October 18, 1981 |
| Time: | ~10:25 p.m. |
| Duration: | 2 minutes or 28 minutes. |
| First known report date: | October 19, 1981 |
| Reporting delay: | Hours, 1 day. |
Geographical data:
| | |
| --- | --- |
| Department: | Haut-Rhin |
| City: | Riedisheim |
| Place: | 12 rue de la Paix, 3rd floor, UFO in the sky. |
| Latitude: | 47.746 |
| Longitude: | 7.366 |
| Uncertainty ratio: | 2 m |
Witnesses data:
| | |
| --- | --- |
| Number of alleged witnesses: | 3 |
| Number of known witnesses: | 1 |
| Number of named witnesses: | 1 |
| Witness(es) ages: | Aged. |
| Witness(es) types: | Married couple. |
Ufology data:
| | |
| --- | --- |
| Reporting channel: | Witness letter to the GREI ufology group of Mulhouse. |
| Type of location: | Third floor of city building. |
| Visibility conditions: | Night. |
| UFO observed: | Yes |
| UFO arrival observed: | ? |
| UFO departure observed: | Yes |
| Entities: | No |
| Photographs: | No. |
| Sketch(s) by witness(es): | No. |
| Sketch(es) approved by witness(es): | No. |
| Witness(es) feelings: | ? |
| Witnesses interpretation: | A craft. |
Classifications:
| | |
| --- | --- |
| Hynek: | NL |
| ALSACAT: | Unidentified. |
Sources:
[Ref. let1:] LETTER OF A WITNESS TO THE "GREI" UFOLOGY GROUP: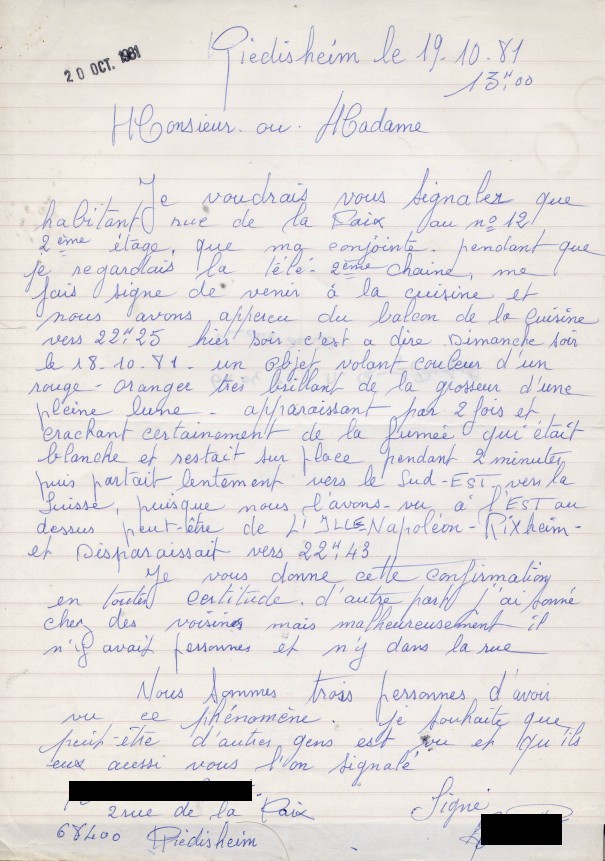 Riedisheim on 10/19/1981
01:00 p.m.
Sir or Madam
I would like to report to you that resising Rue de la Paix at Nr. 12 on the 3rd floor, that my spouse while I looked at the TV, beckons to me to come to the kitchen and we saw from the kitchen balcony at approximately 10:25 p.m. yesterday is i.e. Sunday evening the 01/18/81, a flying object of an orange red color very bright of the size of a full moon, appearing twice and spitting almost certainly smoke which was white and remained on the spot during 2 minutes then left slowly towards the South-east towards Switzerland, since we saw it in the East maybe above the ILLE [Ile] Napoléon - Rixheim and disappearing at about 10:43 p.m.
I give you this confirmation in full certainty in addition I rang at neighbors' but unfortunately there was nobodies in the street.
We are three people to have seen this phenomenon. I wish that perhaps of other people is seen it and that they also reported it to you.
[FIRSTNAME] [NAME]
[--] rue de la Paix
68400 Riedisheim
Signed
[Name]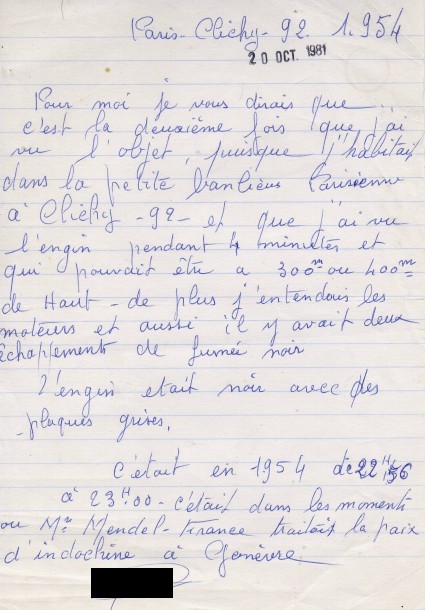 Paris - Clichy 1.954
As for myself I would say to you that it is the second time that I saw the object, since I lived in the small Parisian suburbs in Clichy - 92 - and that I saw the machine during 4 minutes and that it could be at 300 m or 400 m in Height - moreover I heard the engines and also there were two exhausts of black smoke
The craft was black with gray plates.
It was in 1954 from 10:56 p.m. to 11:00 p.m.. It was at the times when Mr. Mendel-France [Mendès-France] treated the peace from Indo-China in Genevra [Geneva]
[Name]
Discussion:
Left:

The building and its third floor kitchen balcony. Please do not bother the current residents, the witnesses left the premises long ago.

Left:

The places mentioned in the report. The observers were at the "A" location.
I searched for other UFO sightings reports, including transnational, at that date, and found none.
I have no really sure idea about what these people would have seen. A meteor? But there were two. And no one else has reported any meteor, either in the region or in the East of France, or Switzerland, or Germany.
And those two minutes of observation are a little long - though not impossible. The initial immobility is not arguing much for meteors either.
A rocket or satellite debris reentry? The possibility that there were two "objects" does not oppose it completely, but I was unable to determine what spacecraft would have fallen over there, and as with a meteor, I was unable to find any other report.
Note that at that time I lived in Riedisheim, finishing High School, and that I have no memory of a UFO sighting that year. The case would have remained unknown if a former prominent member of GREI had not given the original of the witness letter to me.
Evaluation:
Unidentified.
Sources references:
* = Source is available to me.
? = Source I am told about but could not get so far. Help needed.
[let1] * Letter by the witness, sent tot the Mulhouse ufology group GREI, France, October 19, 1981, in my personal archive.
File history:
Authoring:
| | |
| --- | --- |
| Main author: | Patrick Gross |
| Contributors: | None |
| Reviewers: | None |
| Editeur: | Patrick Gross |
Changes history:
| Version: | Create/changed by: | Date: | Description: |
| --- | --- | --- | --- |
| 0.1 | Patrick Gross | July 23, 2015 | Creation, [let1]. |
| 1.0 | Patrick Gross | July 23, 2015 | First published. |