The 1954 French flap:
The index page for the 1954 French flap section of this website is here.
October or beginning of November, 1954, Barlin, Pas-de-Calais:
Reference for this case: Oct-Beg-Nov-54-Santes.
Please cite this reference in any correspondence with me regarding this case.
Summary:
The newspaper Liberté, from the department of the Nord, generally very skeptical about "flying saucers", published on page 5 for November 10, 1954, several stories of saucer pranks.
One of them, like the others undated and without any protagonist name, was that in the region of Barlin, saucers and cigars fired in continuous jets as soon as night fell, until the day when a cyclist had seen "a group of men busy throwing the objects of their making."
Reports:
[Ref. lib1:] NEWSPAPER "LIBERTE":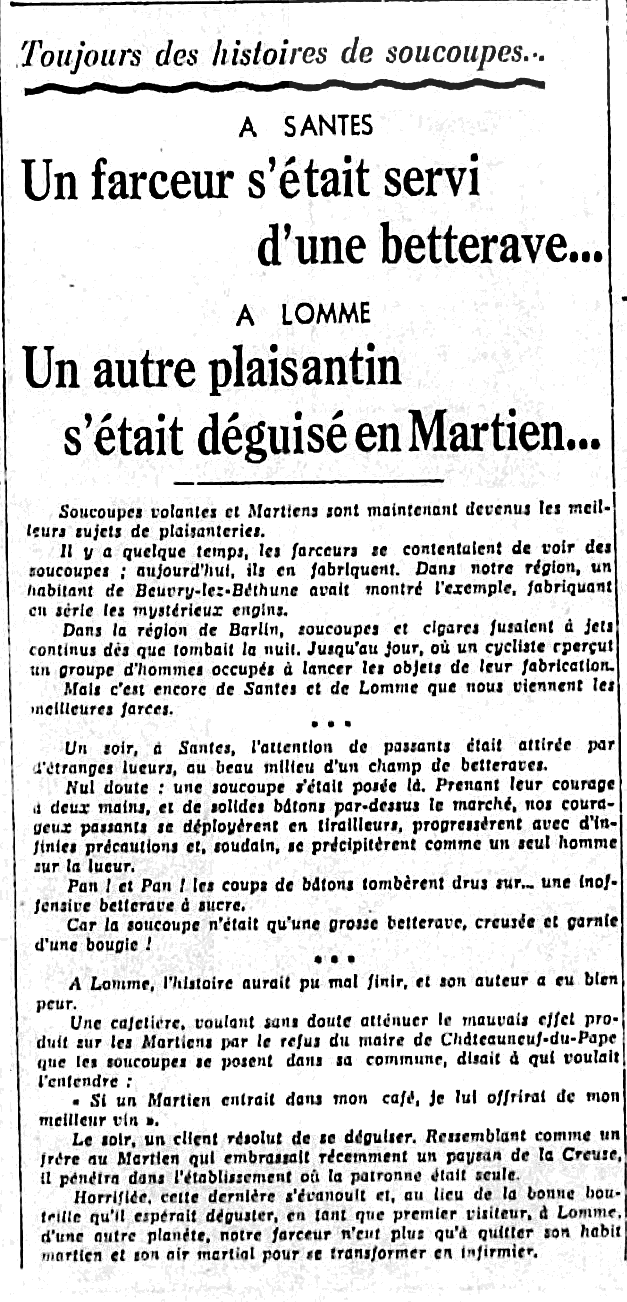 Always stories of saucers...
IN SANTES
A prankster used
a beet...
IN LOMME
Another joker
disguised himself as a Martian...
Flying saucers and Martians have now become the best jokes around.
A while ago, pranksters just saw saucers; nowadays, they make them. In our region a resident of Beuvry-lez-Béthune had shown the example, mass-producing the mysterious appataruses.
In the Barlin region, saucers and cigars shot out continuously as soon as night fell. Until the day, when a cyclist saw a group of men busy throwing the objects of their manufacture.
But it is actually from Santes and Lomme that the best jokes come to us.
One evening, in Santes, the attention of passers-by was attracted by strange lights, in the middle of a beet field.
No doubt: a saucer had landed there. Taking their courage in both hands, and strong sticks too, our courageous passers-by deployed as skirmishers, advanced with infinite precaution, and suddenly rushed like one man onto the glow.
Blam! and Blam! the sticks fell hard on... a harmless sugar beet.
Because the saucer was only a big beet, hollowed out and garnished with a candle!
In Lomme, the story could have ended badly, and its author was frightened.
A coffee maker, undoubtedly wanting to mitigate the bad effect produced on Martians by the refusal of the mayor of Châteauneuf-du-Pape that the saucers land in his town, said to whoever wanted to listen to her:
"If a Martian walked into my cafe, I would give him my best wine."
In the evening, a customer decided to disguise himself. Resembling like a brother to the Martian who recently kissed a peasant from the Creuse, he entered the establishment where the boss was alone.
Horrified, the latter passed out and, instead of the good bottle he hoped to taste, as the first visitor, to Lomme, from another planet, our prankster had only to take off his Martian clothes and his martial face to become a paramedic.
Explanations:
Prank or journalistic invention.
Keywords:
(These keywords are only to help queries and are not implying anything.)
Barlin, Pas-de-Calais, negative case, prank, journalistic invention, saucer, cigares, night
Sources:
[----] indicates sources that are not yet available to me.
[lib1] Article in the regional newspaper Liberté, Nord, France, page 5, November 10, 1954.
Document history:
| Version: | Created/Changed by: | Date: | Change Description: |
| --- | --- | --- | --- |
| 1.0 | Patrick Gross | November 2, 2020 | First published. |