The 1954 French flap:
The index page for the 1954 French flap section of this website is here.
Mid October, 1954, Altkirch, Haut-Rhin:
Reference for this case: Mid-Oct-54-Altkirch.
Please cite this reference in any correspondence with me regarding this case.
Summary:
The national newspaper Paris-Presse for October 23, 1954, reported on page 7, among other observations, that near Altkirch, a motorist had thought he saw a "flying saucer", but "it was only the moon".
Reports:
[Ref. ppe1:] NEWSPAPER "PARIS-PRESSE":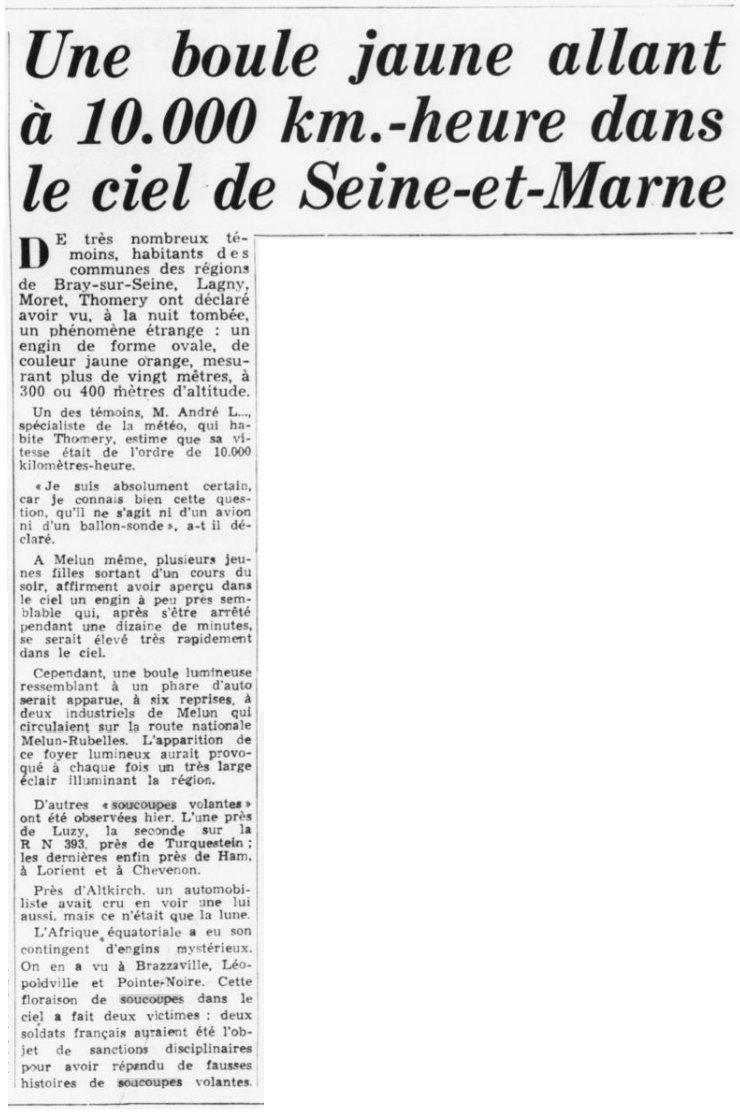 A yellow ball going at 10,000 km.-hour in the sky of Seine-et-Marne
VERY numerous witnesses, residents of the communes of the regions of Bray-sur-Seine, Lagny, Moret, Thomery declared to have seen, at nightfall, a strange phenomenon: an oval shaped object, of orange yellow color, measuring more than twenty meters, at 300 or 400 meters of altitude.
One of the witnesses, Mr. André L ..., weather specialist, who lives in Thomery, estimates that its speed was of bout 10,000 kilometers per hour.
"I am absolutely certain, because I know this question well, that it is neither an airplane nor a weather balloon," he said.
In Melun itself, several young girls coming out of an evening class, claim to have seen in the sky an almost similar machine which, after having stopped for ten minutes, would have risen very quickly in the sky.
Also, a luminous ball resembling a car headlight would have appeared, six times, to two industrialists from Melun who were traveling on the Melun-Rubelles national road. The appearance of this luminous source would have caused each time a very large flash illuminating the region.
Other "flying saucers" were seen yesterday. One near Luzy, the second on the RN 393, near Turquestein; the last ones finally near Ham, in Lorient and in Chevenon.
Near Altkirch, a motorist thought he had seen one too, but it was only the moon.
Explanations:
Negative case, the Moon.
Keywords:
(These keywords are only to help queries and are not implying anything.)
Altkirch, Haut-Rhin, car, Moon, driver, negative case, misinterpretation
Sources:
[----] indicates sources that are not yet available to me.
[ppe1] Article in the national newspaper Paris-Presse, Paris, France, page 7, October 23, 1954.
Document history:
| Version: | Created/Changed by: | Date: | Change Description: |
| --- | --- | --- | --- |
| 1.0 | Patrick Gross | December 25, 2019 | First published, [ppe1]. |