The 1954 French flap:
The index page for the 1954 French flap section of this website is here.
October 4, 1954, Arpajon, Seine-et-Oise:
Reference for this case: 4-oct-54-Arpajon.
Please cite this reference in any correspondence with me regarding this case.
Summary:
The local newspaper Le Journal de Versailles for October 7, 1954, mentioned an observation on "Monday", thus on October 4, 1954, in the afternoon: for a few moments, four "trustworthy" residents of Arpajon "had seen a bright and motionless sphere at a certain altitude. After two minutes of observation, "the craft" suddenly moved horizontally and "disappeared."
Reports:
[Ref. jvs1:] "LE JOURNAL DE VERSAILLES" NEWSPAPER: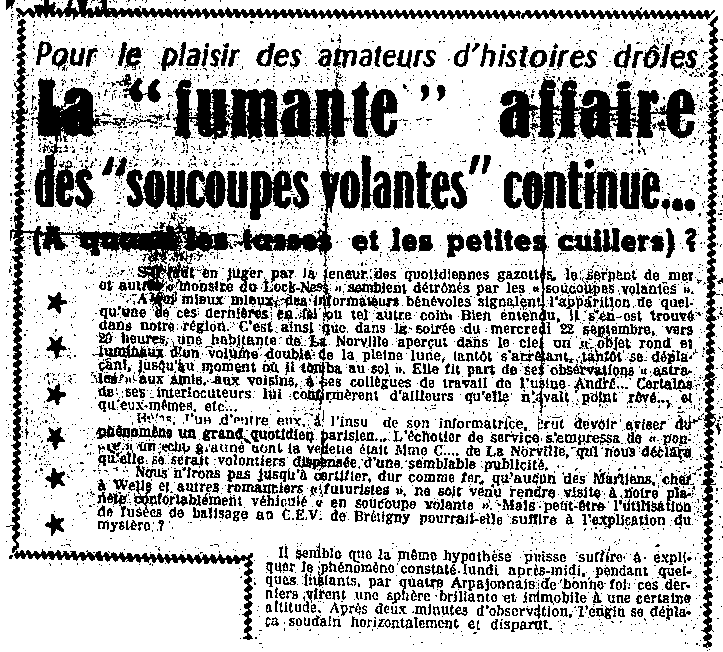 For the amateurs of curious tales
THE "BURNING" AFFAIR OF THE "FLYING SAUCERS" CONTINUES
(When do we get the teacups and the spoons)?
If we are to judge by the content of the daily of the gazettes, the sea serpent and other "monster of the Loch Ness" seem dethroned by the "flying saucers".
Again and again benevolent informers announce the appearance of some of those in this or that corner. Of course, there were some found in our area. Thus in the evening of Wednesday, October 22, around 8 p.m., a resident of La Norville saw in the sky a "round and luminous object of a volume double than the full moon, sometimes stopping, sometimes moving, until the moment when it fell on the ground". She reported of her "astral" observation to friends, neighbors, her colleagues of work at the André factory... Some of her interlocutors assured her, besides, that it she had not dreamed, and that themselves had seen, etc...
Alas, one of them, without the consent of his informant, thought to alert a big national Parisian newspaper. The gossip writer in charge hastened to "lay" a toasted echo whose star was Mrs. C... of Arpajon, who told us that she would have rather spared herself such publicity.
We will not go so far as to certify, iron cast, that none of the Martians, those cherished by Wells and other "futuristic" novelists, came to visit our planet comfortably conveyed in "flying saucer". But perhaps the use of beaconing rockets at the C.E.V. of Brétigny could be enough as the explanation to the mystery?
It seems that the same assumption could be sufficient to explain the phenomenon noted Monday afternoon, during a few moments, by four residents of Arpajon, in good faith this time, who saw a brilliant and motionless sphere at a certain altitude. After two minutes of observation, the machine moved suddenly horizontally and disappeared.
Explanations:
The "craft" may have been a helicopter, or a balloon, or an extraterrestrial craft: the information is not sufficient to determine what it actually was.
Keywords:
(These keywords are only to help queries and are not implying anything.)
Arpajon, Seine-et-Oise, luminous, object, daylight, motionless, fast, manoeuver, multiple, sphere, horizontal
Sources:
[----] indicates sources that are not yet available to me.
[jvs1] Article in the local newspaper Le Journal de Versailles, Versailles, France, October 7, 1954.
Document history:
| Version: | Created/Changed by: | Date: | Change Description: |
| --- | --- | --- | --- |
| 0.1 | Patrick Gross | September 25, 2005 | First published. |
| 1.0 | Patrick Gross | March 16, 2009 | Conversion from HTML to XHTML Strict. First formal version. |
| 1.1 | Patrick Gross | December 13, 2019 | Addition of the Summary. Explanations changed, were "Not looked for yet." |