The 1954 French flap:
The index page for the 1954 French flap section of this website is here.
October 16, 1954, Brive-la-Gaillarde, Corrèze:
Reference for this case: 16-Oct-54-Brive-la-Gaillarde.
Please cite this reference in any correspondence with me regarding this case.
Summary:
The national newspaper Paris-Presse reported on October 17, 1954, that "yesterday afternoon", the residents of Brive-la-Gaillarde, among others, had examined with binoculars a gigantic "serum bulb" which flew over the region until nightfall.
In his 2016 book "En Quête du Triangle de la Burle", Renaud Benoist indicated that among the observations of October 16, 1954, there was that of the employees of the EDF national power co in Brive-la-Gaillarde in the Corrèze department.
These observations are actually explained by the Italian balloon for cosmic rays study that had wandered in the sky that day in this region.
Reports:
[Ref. ppe1:] NEWSPAPER "PARIS-PRESSE":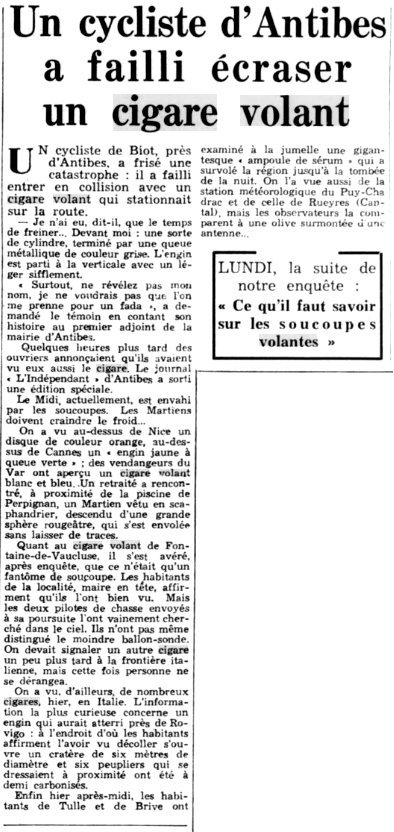 A cyclist from Antibes
almost crushed
a flying cigar
A cyclist from Biot, near Antibes, bordered on a disaster: he almost collided with a flying cigar that was parked on the road.
- I had, he said, just the time to brake.. In front of me: a kind of cylinder, terminated by a metallic tail in gray color. The craft went to the vertical with a slight hissind sound.
"Above all, do not reveal my name, I would not like to be taken for a crackpot," asked the witness, telling his story to the first deputy of the town hall of Antibes.
A few hours later, workers announced that they too had seen the cigar. Antibes newspaper "L'Indépendant" has published a special edition.
The Midi, currently, is invaded by saucers. Martians must fear the cold...
One saw above Nice an orange disc, above Cannes a "green tailed yellow craft"; grape pickers from the Var saw a white and blue flying cigar. A pensioner met, near the swimming pool of Perpignan, a Martian dressed in a diving suit, descended from a large reddish sphere, which flew away without a trace.
As for the flying cigar of Fontaine-de-Vaucluse, it turned out, after investigation, that it was only a saucer ghost. Local residents, mayor first, say they saw it. But the two fighter pilots sent to chase it vainly sought it in the sky. They did not even distinguish the slightest weather balloon. One reported another cigar a little later at the Italian border, but this time no one bothered.
Moreover, many cigars were seen yesterday in Italy. The most curious information concerns one who would have landed near Rovigo: at the place where the locals claim to have seen it take off, a crater, six meters in diameter opens, and six poplars trees which stood nearby were half charred.
Finally yesterday afternoon, the residents of Tulle and Brive examined under the binocular a gigantic "elongated drug drop container" which flew over the region until nightfall. It was also seen from the weather station of Puy-Chadrac and from that of Rueyres (Cantal), but observers compare it to an olive surmounted by an antenna...
---
MONDAY, the continuation of our investigation:
"What you need to know about flying saucers"
[Ref. rbt1:] RENAUD BENOIST:
The author indicates that on October 16, 1954, the weather station of Chadrac in the Haute-Loire observed between 05:30 p.m. and 06:35 p.m. with the telescope a strange luminous craft having "the shape of a straight olive supporting at the top a black antenna". The professionals were able to observe it for a long time and found that it seemed to be in flaming aluminum, with at its two-thirds a black trace. "The station initially believed it was the planet Jupiter, but the object who was at 100° west suddenly changed color strangely to become intense red then disappeared completely. Many witnesses had observed it in several villages of the region, towards the Durande.
The observatory of Rueyres in the Cantal, the employees of the EDF of Brive-la-Gaillarde in the Corrèze and the inhabitants of Brioudes in the Haute-Loire also testified to this strange phenomenon.
[Ref. ubk1:] "UFO-DATENBANK":
| Case Nr. | New case Nr. | Investigator | Date of observation | Zip | Place of observation | Country of observation | Hour of observation | Classification | Comments | Identification |
| --- | --- | --- | --- | --- | --- | --- | --- | --- | --- | --- |
| 19541015 | | | 15.10.1954 | | Brive Gaillarde | France | 17.50 | | | |
Explanations:
The high altitude balloon that day.
One or more stratospheric balloons to study cosmic rays were launched from Milan, Italy, as a project of the Padova University, and floated in the French sky on October 14, 15 and 16, 1954; this photograph was taken from the observatory of Haute-Provence:
Keywords:
(These keywords are only to help queries and are not implying anything.)
Brive-la-Gaillarde, Corrèze
Sources:
[----] indicates sources that are not yet available to me.
[rbt1] "En quête du Triangle de la Burle", book by Renaud Benoist, L'ivre-Book publisher, France, 2016.
[ppe1] Article in the national newspaper Paris-Presse, Paris, France, page 5, October 17, 1954.
[ubk1] Online database UFO-Datenbank, Germany, found in 2016, at ufodatenbank.de
Document history:
| Version: | Created/Changed by: | Date: | Change Description: |
| --- | --- | --- | --- |
| 1.0 | Patrick Gross | January 27, 2017 | First published. |
| 1.1 | Patrick Gross | November 27, 2019 | Addition of the Summary. |
| 1.2 | Patrick Gross | January 4, 2020 | Addition [ppe1]. In the Summary, addition of "The national newspaper Paris-Presse..." |