The 1954 French flap:
The index page for the 1954 French flap section of this website is here.
October 14, 1954, Coustellet, Vaucluse:
Reference for this case: 14-Oct-54-Coustellet.
Please cite this reference in any correspondence with me regarding this case.
Summary:
The national newspaper Le Parisien Libéré for October 16, 1954, indicated that the same craft as that seen in Roussillon, around 6 p.m., "a saucer of greenish color that disappeared in a few seconds", was also seen by Mr. Pierre Hector, entrepreneur, in Coustellet.
Reports:
[Ref. lpe1] "LE PARISIEN LIBERE" NEWSPAPER: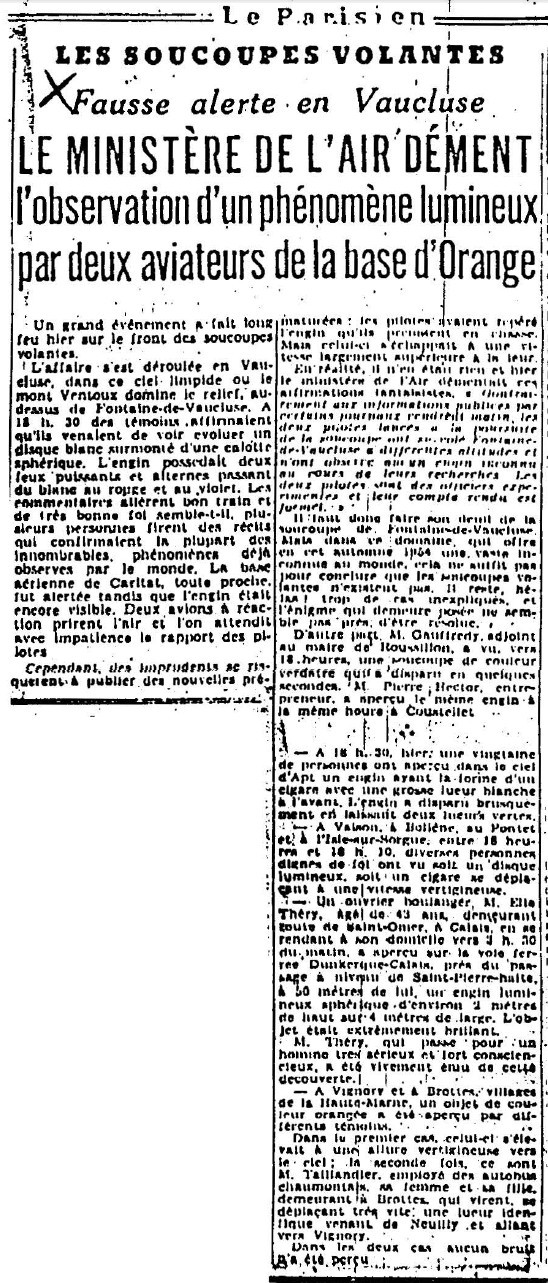 FLYING SAUCERS
False alert in Vaucluse
THE MINISTRY OF AIR DENIES
the observation of a luminous phenomenon
by two aviators from the Orange base
A big event faded yesterday on the front of the flying saucers.
The affair took place in the Vaucluse, in the limpid sky where Mount Ventoux dominates the relief, above Fontaine-de-Vaucluse. At 6:30 p.m., witnesses said that they had just seen a white disk surmounted by a spherical cap. The craft had two powerful lights alternating from white to red and purple colors. The comments went very fast and in good faith, it seems, several people gave reports that confirmed most of the countless phenomena already observed around the world. The nearby Caritat air base was alerted while the craft was still visible. Two jet planes took off and one waited impatiently for the pilots' report.
However, imprudents people ventured to publish premature news: the pilots had spotted the craft they were hunting. But it escaped at a speed much greater than theirs.
In fact, this was not the case, and yesterday the Air Ministry denied these fanciful claims. "Contrary to the information published by some newspapers Friday morning, the two pilots sent in pursuit of the saucer overflew Fontaine-de-Vaucluse at different altitudes and observed no unknown apparatus during their searches. These are experienced officers and their report is formal."
It was therefore necessary to mourn the saucer of Fontaine-de-Vaucluse. But in a field which in the autumn of 1954 offers a vast unknown in the world, that is not enough to conclude that flying saucers do not exist. There remain, alas, too many unexplained cases, and the enigma that remains hardly seems to be resolved.
On the other hand, Mr. Gauffredy, deputy mayor of Roussillon, saw, around 6 p.m., a saucer of greenish color which disappeared in a few seconds. Mr. Pierre Hector, entrepreneur, saw the same craft at the same time at Coustellet.
***
-- At 6:30 p.m. yesterday a score of people saw in the sky of Apt a craft in the shape of a cigar with a big white glow at the front. The craft disappeared suddenly leaving two green lights.
-- In Vaison, in Bollène, at the Ponet and L'Isle-sur-Sorgue, between 6 p.m. and 6:30 p.m., various credible people saw either a luminous disc or a cigar moving at a dizzying speed.
-- A baker, Mr. Elie Théry, aged 43, living on the road from Saint-Omer to Calais, on his way home at around 3:30 a.m. in the morning, saw on the Dunkerque-Calais railway, near the level crossing of Saint-Pierre-Halte, 50 meters from him, a spherical luminous craft about 2 meters high and 4 meters wide. The object was extremely bright.
Mr. Thery, who passes for a very serious and conscientious man, has been deeply moved by this discovery.
-- In Vignory and Brottes, villages of the Haute-Marne, an orange-colored object was seen by different witnesses.
In the first case, it rose at a vertiginous pace towards the sky; the second time, Mr. Taillandier, an employee of the Chaumont buses, his wife and daughter, living at Brottes, saw an identical gleam moving from Neuilly to Vignory, moving very quickly.
In both cases, no noise was perceived.
Explanations:
Probably the 06:13 p.m. meteor of that day.
The newspaper Le Parisien Libéré for October 16, 1954, did not give a specific date, simply tilling it was "yesterday" for some of the listed sightings. But it must be understood that the national press republished information of the local press from the day before, on October 15th, 1954, so that "yesterday" is quite likely was October 14th, 1954.
This is verified by other cases mentioned in this newspaper; which have the specific date given in other sources.
Keywords:
(These keywords are only to help queries and are not implying anything.)
Coustellet, Vaucluse, Pierre Hector, entrepreneur, craft, evening
Sources:
[----] indicates sources that are not yet available to me.
[lpe1] Article in the national newspaper Le Parisien Libéré, Paris, France, October 16, 1954.
Document history:
| Version: | Created/Changed by: | Date: | Change Description: |
| --- | --- | --- | --- |
| 1.0 | Patrick Gross | December 5, 2016 | First published. |
| 1.1 | Patrick Gross | July 7, 2019 | Addition of the Summary. |